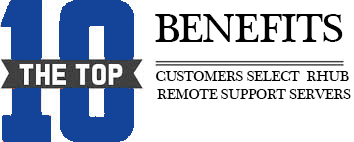 If you want a remote support tool, it's not difficult to find one. Nearly every "techy" person you know has a favorite, and the suggestions swell whenever any vendor changes their offerings.
With all the options, choosing the right software can be difficult. You might get that same frigid indecision – needing to choose an option that offers the most benefits and value possible but frozen by a cornucopia of options.
We Asked Our Customers Why They Chose Us?
Over the past 8 years, we've been asking our customers what is important to them. What do they need their remote support tool to do, who needs to use it, and so on. Through win/loss calls and through online conferencing, we've learned a lot about what problems and challenges they wanted to solve with RHUB. Now, as we continue to grow, our base of customers who have successfully implemented RHUB`s solutions has grown as well. Most such customer has implemented RHUB's solutions because of the following:
1.) Platform Support:
Customers can connect to all their remote computers, systems and devices securely using RHUB remote support servers as it works from behind the firewalls. In this regard, RHUB works as a one-stop solution for a variety of devices without the need to pay multiple licensing fees for multiple users in the same organization.
2.) Security:
Support personnel can be assured that the only attendees in a meeting are those that they have authorized. The system can also be set up as an https site for additional data security. You gain the benefit of being able to conduct meetings without concern that sensitive data will be compromised.
3.) Integration:
Customers can strategically leverage their existing IT environment and work-flows.
4.) Total cost of ownership:
Customers get all the security of ownership and eliminate the never-ending monthly fees of Saas remote support tools, thus providing the opportunity to save money and resources.
5.) Jump Technology:
Customers can access computers, servers, and network devices any time wherever they are. This can prove to be tremendously beneficial for customers who need to travel frequently.
6.) Collaboration:
Customers can collaborate with multiple "experts" in one session to resolve more in first technical support contact, thereby eliminating needless costly escalations.
7.) Consolidation:
Customers eliminate multiple remote support tools, thereby improving security, reducing complexity and saving on ever increasing costly monthly payments of hosted services.
8.) Vendor Access Management:
Customers can receive support from and collaborate with vendors without compromising security or purchasing additional tools.
9.) The RHUB`s Remote Support Server
Customers improve security and lower costs with RHUB`s on premise deployment.
10.) Services and Support
RHUB`s world class team provides excellent support whenever our customers need it. Professional support services from RHUB helps our customers to learn, measure and optimize their ROI.