Control-Alt-Delete is a computer keyboard command often used on Windows PC compatible computers to interrupt a function. Also sometimes referred to as the "three-finger salute," Ctrl+Alt+Del is used by simply holding the Control and Alt keys while pressing the Delete key at the same time.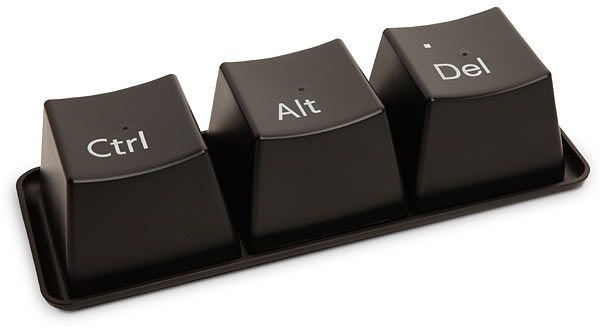 The precise purpose of this function may depend based on the context in which it is used. This particular key combination is often used for rebooting the computer in DOS or in Windows 3.0 or even earlier Windows versions. Once Windows 3.1 was introduced, the command began to be used as a security component or task manager for facilitating the end of a Windows session.
Ctrl-Alt-Delete
will bring up a window in Windows 95 and later systems that make it possible for users to view the status of all programs that are currently running and then opt to terminate any of those programs. This keyboard function will also provide users with the option to shut down the computer or restart the computer. The exact options offered will usually vary slightly based on the particular version of Windows that is running. For instance, if Ctrl-Alt-Delete is pressed twice consecutively in Windows 95 or 98, the operating system will automatically close all programs that are currently running and then restart.
With RHUB Remote Support Server, it is possible to take advantage of a Remote Desktop Client that will give you the ability to connect to Windows Workstations.
Suppose that you wish to send a Ctrl+Alt+Delete command to a workstation. Perhaps you are performing an upgrade on a remote server when Windows Explorer crashed. The only way that you would be able to restart Windows Explorer is by going to the task manager and beginning a new task in order to reach the Task Manager so that you can then then input the Ctrl+Alt+Delete Command.
Inserting these commands is very easy with RHUB remote server. All you need to do is click on Ctrl+Alt+Delte on the TurboMeeting top toolbar and the command will be sent to the remote session.
Benefits of Ctrl+Alt+Del
There are actually numerous advantages associated with using the Ctrl+Alt+Del command, including:
If you attempt to reset any user password or administrator on a Windows server from manager-user/groups, you will receive a warning that password reset from the mmc console could result in data loss. Instead, you can use Ctrl+Alt+Del and then change the password.
You can send Ctrl+Alt+Ins with virtual box when you are working on vmware.
The Ctrl+Alt+Delete function can also be used to logoff/login.
The Ctrl+Alt+Delete command can also be used to lock the remote computer.
You can also choose to switch users with the Ctrl+Alt+Delete command.
Ctrl+Alt+Delete can be used to invoke the Task Manager.
With RHUB, you can significantly expand your options.
Are you excited to learn more about Ctrl+Alt+Delete on remote computers using RHUB remote support servers? To learn more about RHUB products, call us at +44 (0)1925 659523 or email us at
r
hub@collaboration-technologies.co.uk.