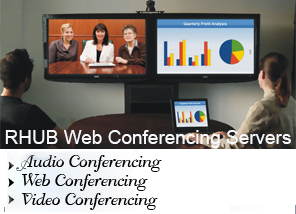 While meeting in person has been the preferred option in the past, it is not always practical or even feasible today. A number of factors can preclude meeting in person, including scheduling differences and budget challenges. RHUB
web conferencing server
technology is often the best alternative when you are not able to meet with customers, partners, or colleagues in person. With this option, you gain the ability to meet as well as present, collaborate, and share on content with just a handful of participants or thousands, all from a single solution.
With just one box, you can benefit from everything that you need to get the job done right. Regardless of whether you wish to schedule a conference in advance or you need the capability to conduct a meeting on the fly, the one-click meetings from RHUB make starting conferences quick and easy. You can take advantage of the option to launch a conference directly from Microsoft Outlook, or you can use your own personalized RHUB URL, if you wish. You can also invite participants to your conference via instant message, text, or email. The choice is entirely up to you.
The multi-point video integration in both standard and high-definition in your virtual conference room also gives you the ability to incorporate real-time video. This can prove to be particularly beneficial, as multimedia content, application, and desktop sharing can provide your participants with a more effective and engaging experience. In addition, you can take advantage of the opportunity to provide participants with control, if you so desire. Presentations and documents can also be displayed in zoom mode or full screen without worrying about any degradation occurring in image quality or clarity.
RHUB web conferencing, video conferencing, and audio conferencing services also provide a number of important features, including integrated audio controls, polling, Outlook integration, support for PowerPoint animation and transitions, and desktop collaboration and application sharing.
You can also benefit from the option to record your entire desktop application or conference using the record and play back feature. If you ever encounter the need to check something from the conference in the future, it is available for future play back. Once it is saved, you also have the opportunity to send the record to participants so that they can listen and even view your recording offline for future reference.
RHUB technology gives you the opportunity to connect with anyone from any location and across devices and platforms so that you are not limited. Whether your participants are inside or outside your firewall, you retain the ability to connect with them quickly and easily.
If you would like to learn more about RHUB technology and how it can benefit you and your business, give us a call today. RHUB Conferencing offers a one-stop solution for all breeds of conferencing services, including web, audio, and video conferencing. Give us a call today at +44 (0)1925 659523 or email us at
rhub@collaboration-technologies.co.uk