Research shows that based on the type of work done, multi-monitors can provide the basis for increasing productivity by as much as 50 percent. Multi-monitor, also sometimes referred to as multi-display or multi-head, refers to the use of multiple physical display devices for the purpose of increasing the area available for computer programs that operate on a single computer system.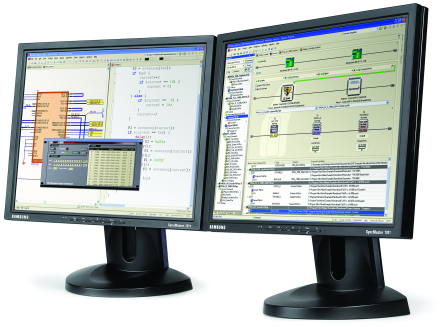 With RHUB Web Conferencing Servers, you gain the ability to support your customers who possess multiple monitors. Consequently, you gain the ability to navigate between monitors while in a session. In addition to helping you make a better impression, multiple monitors also help you to be more productive, provided that you know how to use them effectively. Read on for tips on how to put multiple monitors to work for you.
Using Multiple Monitors for Presenters
With RHUB, a presenter with multiple monitors can opt to display a specific monitor or choose to show the entire desktop, which is comprised of more than one monitor.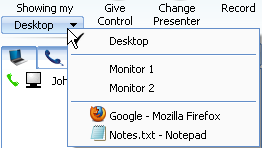 Using Multiple Monitors for Supporter
In TurboMeeting, an individual who is providing Remote Support to a computer with multiple monitors is provided with the option to display the entire desktop or display individual monitors.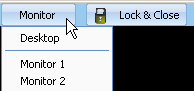 For many of us, the use of multiple monitors has become so commonplace that we would find it difficult to give them up. If you have become accustomed to using multiple monitors, you may well have found that they help you to be more productive.
Below are several excellent reasons to use dual monitors:
According to published studies, using a dual monitor in the workplace can increase productivity by as much as 50 percent. For instance, if you work as a computer programmer, you may find that the ability to display source code on one monitor and your program on the other monitor would be beneficial.
In true multi-tasking, you need a sufficient amount of screen space to maintain two or more apps in full view at the same time. The ability to keep multiple apps completely open at the same time is a feature that you are certain to appreciate. Web designers and customer service reps are just two examples of professionals who would be able to benefit from dual monitors.
Cutting and pasting between documents can also be accomplished much easier when you do not need to alt-tab between the documents and scroll between them. This feature can be particularly beneficial for creating PowerPoint presentations and newsletters.
Video and picture editing can also prove to be much more effective with the use of dual monitors. You gain the ability to have all of your necessary editing tools in view on one screen while you actually work on the project on the other screen. With this option, you can compare before as well as after views of your project to allow for better results.
You will also find it is much easier to compare products with dual monitors. For instance, you can opt to display the specs for two video cameras in a side-by-side manner in separate browser windows.
Dual monitors also provide a much better experience for video and gaming. With this option, you gain increased visibility as well as the opportunity to stream video on one screen while working on another screen.
New multi-monitor features are also available through Windows 8, including the ability to utilize various backgrounds on each individual monitor, use multiple taskbars, and have your background image span multiple screens.
Are you interested in having Dual Monitor Support? To obtain more information on how you can setup RHUB web conferencing servers for multi monitors, contact us at +44 (0)1925 659 523 or email us at
r
hub@collaboration-technologies.co.uk