How would the ability to conduct online classes all over the world benefit your organization or institution? While it might sound like wishful thinking, thanks to modern advances in video conferencing, it is now entirely possible to do just that. You can now use R-HUB HD desktop video conferencing technology to give students a virtual seat in any classroom, regardless of where they may be located.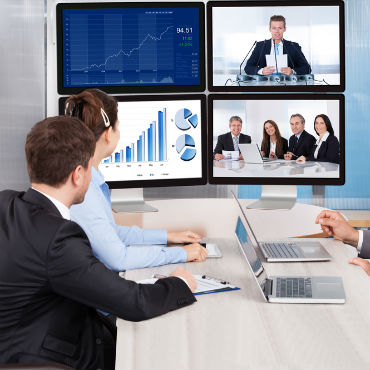 Every day, educators are developing more unique ways to utilize HD desktop video conferencing. Furthermore, most educators are now choosing R-HUB products to deliver instruction to their students. Below are just a few of the ways in which your school can use HD desktop video collaboration:
Take Classes on Virtual Field Trips -
When budgetary issues or lack of time makes it impractical or physically impossible to travel, video conferencing can save the day.
Broadcast Administrative Policies and News Directly to the Classroom -
With the assistance of HD desktop video technology from R-HUB, school-wide news can now be broadcast over classroom televisions rather than requiring students to attend assemblies, taking time away from the classroom.
Bring Experts to the Classroom Virtually -
Inviting experts into the classroom is an excellent way to bring new meaning to a lesson. Unfortunately, busy schedules and job requirements frequently prevent such experts from making such visits. Fortunately, desktop video conferencing eliminates the time and hassle of travel, thus making it easy to practically beam subject-matter experts directly into the classroom from anywhere in the world.
Expand Access to Students in Rural Communities -
In the past, students in sparsely populated rural areas frequently had no choice but to miss out on many opportunities their urban and suburban peers were able to take for granted. Given that being bussed to school can take hours, it should come as no surprise that education must take a back seat to other obligations.
Connecting rural students via video conferencing allows them the benefit of being able to attend school from home while also providing them with access to experts and field trips they might otherwise never have the opportunity to experience. Such opportunities can dramatically improve the quality of their learning experience and ensure they are able to take advantage of a public education.
Stream, Record, and Archive Sessions for Future Playback -
For staff development meetings and classroom lectures, video sessions can also prove to be helpful by being recorded for students to view at a later date. Whether a student has missed class due to being absent or he or she simply wishes to review content during study time, the benefits are immeasurable.
At R-HUB Desktop Video Conferencing, we are completely committed to providing educators from K-12 schools to upper-level institutions with the solutions they need to adapt to an ever-changing and increasingly globalized world.
These are just a few of the ways in which HD desktop video conferencing can improve the scope and the quality of the education provided to your students. Think of all of the ways in which you can make R-HUB work for your facility and students.
Contact a R-HUB Desktop Video Conferencing Solutions Consultant today to learn more about how we can help you in this arena. Contact us today at +44 (0)1925 659523 or email us at ct@collaboration-technologies.co.uk