The ability to share your desktop with meeting attendees can provide tremendous advantages for both you and your participants. When doing so, it can be beneficial to be able to hear audio from the remote computer. Whether you want to take advantage of the option to listen to music or to provide audio instructions, RHUB Web Conferencing servers will give you plenty of options for enhancing your presentations with audio.
With RHUB
Web Conferencing servers
, you are able to share your desktop remotely with all of the attendees in your meeting. For instance, our web conferencing servers can be used for securely accessing applications or files from a separate computer. You could also use the web conferencing server for providing a friend or associate with temporary access to your desktop if they need a file or if you need assistance with a computer issue. RHUB is designed to ensure that you can broadcast voice audio over the phone in an efficient manner or utilize the microphone/computer speaker (VoIP). Even so, there may be instances in which you wish to take advantage of the opportunity to broadcast an audio recording directly from your computer.
When using Windows Vista as well as later Windows operating systems, the presenter of a meeting is able to share his or her computer-based audio with participants simply by clicking on the Tools menu item. He or she can then select "Start to share my computer sound with attendees" option. It is that simple!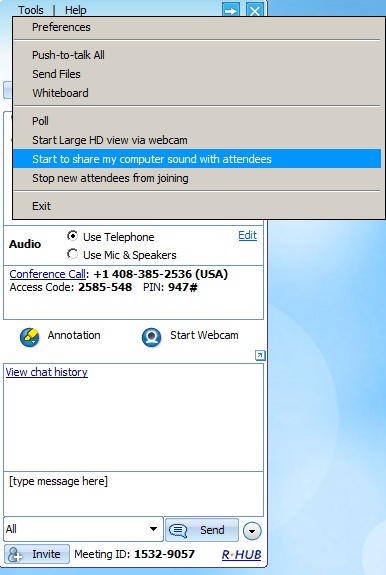 Once this feature has been enabled, the presenter may then play a video and share it without attendees while also streaming the audio for that video. All that the presenter needs to do is select the "Use Mic & Speakers" option for the computer. The presenter may also choose the "Use Telephone" option. The default RHUB conference call number with integrated audio will be used.
Presenters can take advantage of numerous advantages by using the option to share computer audio with their meeting participants. For instance, not all learners are the same. Many individuals learn better through audio. As a result, by sharing audio, you can increase learning effectiveness. Sharing audio also presents the opportunity to collaborate in a more effective manner. You may also find that sharing audio presents the opportunity to work more efficiently while reducing confusion. Furthermore, with this option, you can take advantage of the opportunity to offer live-motion training classes as well as product information to your employees, partners, and even clients. This technology can also be used for illustrating and promoting your services and products. As you can see, the ability to share computer audio with participants during a conference can set the stage for improved communication while also broadening your marketing capabilities.
Are you interested in learning how you can share your computer audio with your meeting attendees? If so, call us today at +44 (0)1925 659 523 or email us at
rhub@collaboration-technologies.co.uk
to receive a quick demo.